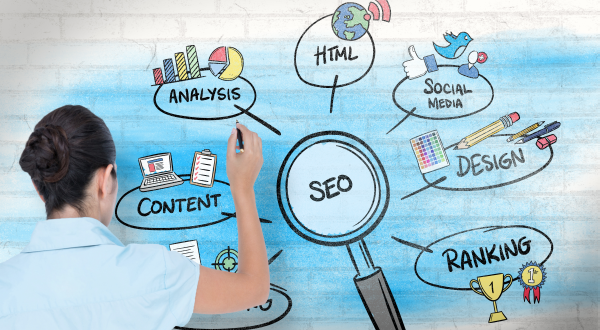 Get seen by the people who are looking for YOU!
Search Engine Optimization is the way to make sure the people who are looking for your product or services online can find you.
The name of the game is to have your website appear first in the list or at least "above the fold", above the fold refers what shows up on their screen or mobile device WITHOUT HAVING TO SCROLL DOWN. It's the prime real estate in the online world. There are many search engines such as Bing, Yahoo, Ask etc. however Google is by far the most popular and are continually improving how their search delivery works so that when someone searches for something online Google wants to provide the most relevant and useful response.
SEO Services
This is where the magic can begin for websites. So you've got your wonderful looking website with great content and visuals, you are clear about what you are offering and how visitors can become your customers and you are all set to go then ……NOTHING HAPPENS! What is wrong you think? Well a few things really – and we are speaking from a similar embarrassing website we paid lots of money for and got no sales from – so we know how devasting that can be for the budding entrepreneur or established business owner. What we know now and weren't too familiar with then was something called SEO – Search Engine Optimisation.
What is SEO?
Search Engine Optimisation is simply how websites are ranked by Google and other search engines. The general principal is that the higher your website ranks the more customers you can potentially attract to your website – this is how visitors find your website.
Remember Googles mission is "To organize the world's information and make it universally accessible and useful."
They do change the rules on a regular basis however the basic fundamentals are:-
Keywords – have the right keywords across your website so that visitors can easily find your site
Engaging and unique content – give you best value content away – leave your visitor with something of value before asking for that sale or for them to sign up for your blog or newsletter
Links – have other websites link back to your website as proof that you are an authority on your business niche
That all sounds straight forward so how do you apply the above Google rules to your own website – that's the real magic. Luckily for you we have a process or system that helps with all of the above steps however this does take time. Google's bots that search your website are just that – computer bots so you need to help them out.
Keywords
You need to find out what current keywords your site may be ranking for – Back to looking at Google Analytics for this data. If you haven't set this up on your website (we hadn't for our first one even though we had used outside experts to set up our website!) With detailed keyword research you can find out what your competition is ranking for and which keywords are attracting high traffic volume and other businesses are willing to pay $ 's to advertise with Google – that way you start to get a picture of where the money is in your niche.
Engaging and unique content
Then you need to redraft your website to capture these keywords so you start to get your website ranking for the right ones. You may have started a blog or newsletter and then got stopped. This can be refreshed by creating unique and engaging articles. The keyword research is helpful to provide key topics to be written about and expanded upon. We can help you do this in a quick and efficient manner. However the process of updating and creating content is a process that is unique to each business niche and website.
With a trained eye you can start to see the website mistakes businesses make and how some of the changes are quick and easy to fix and will create instant results. Simple steps like making sure that there is only one action for a visitor to take regarding a call to action – we see too many websites with too many options that it just becomes too confusing for the visitor to take any action and they bounce off. This type of work requires a lot of testing and reworking to see what visitors like and don't like and what does convert to a sale. We can do this for so and let you know what changes are the right ones to make without costing you lots of money.
Links
This is a science in its own right however if you work hard on the first two elements then this becomes a natural progression. Others will want to share your unique articles and content so will link your site to theirs which can be done in a number of ways. Again there are online tools to start tracking and measuring how many links you have so expect this to take some time to really work. A good use of social media tools can also assist with this once you know how do this effectively. We can do this for you and take all the hassle out it for your site and your business.
As you are probably aware Google does change the algorithms so what you set up initially to have SEO work does need to be constantly reviewed and adjusted. Like any market the needs and desires of potential customers do change over time so this isn't something you set up and then forget. We recommend to businesses to review their SEO statistics on a quarterly basis or monthly if the majority of their sales are via the internet.
Call us now for a chat about your website SEO +61412825625